Rohde & Schwarz FSW Signal & Spectrum Analyzer
No stress rentals! We help you to choose the equipment that you need, we expedite shipment, and follow up.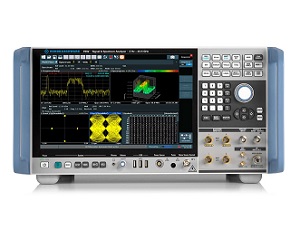 The FSW is capable of in-depth 5G physical layer signal analysis. Its internal bandwidth of up to 2 GHz allows the capture of the entire bandwidth of the downlink signal and evaluation the complete system.
Unparalled low phase noise and best sensitivity on the market
2 GHz internal analysis bandwidth, 5 GHz with RTO264 oscilloscope
800 MHz real-time analysis bandwidth
SCPI recorder simplifies code generation
New flat Windows 10 design and multitouch gesture support
Specifications: Available models
Model name
Frequency range
Maximum frequency with
external harmonic mixers
Maximum analysis
bandwidth
Maximum real-
time bandwidth
Rohde & Schwarz FSW8
2 Hz to 8 GHz
not supported
512 MHz
512 MHz
Rohde & Schwarz FSW13
2 Hz to 13.6 GHz
not supported
512 MHz
512 MHz
Rohde & Schwarz FSW26
2 Hz to 26.5 GHz
500 GHz
2 GHz
800 MHz
Rohde & Schwarz FSW43
2 Hz to 43.5 GHz
500 GHz
5 GHz
800 MHz
Rohde & Schwarz FSW50
2 Hz to 50 GHz
500 GHz
2 GHz
800 MHz
Rohde & Schwarz FSW67
2 Hz to 67 GHz
500 GHz
2 GHz
800 MHz
Rohde & Schwarz FSW85
2 Hz to 85 GHz
2 Hz to 90 GHz with
FSW B90G option
500 GHz
5 GHz
800 MHz
For detailed specifications please see: Rohde & Schwarz FSW Data Sheet