Doble TDR900 Circuit Breaker Test System
No stress rentals! We help you to choose the equipment that you need, we expedite shipment, and follow up.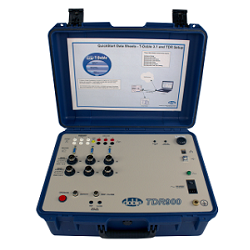 The TDR900 is a Circuit Breaker Test System engineered to test all types of circuit breakers. It provides accurate performance measurements and allows simple to complex testing of circuit breakers using a single, rugged, field-portable instrument.
The new T-Doble software is included
Combines lab quality accuracy with field ready ruggedness
High Accuracy Motion Recording detects mechanical problems
Immune to electrostatic and electromagnetic interference
Controlled by user supplied PC
Specifications - Main Contact and Resistor Switch timing

| | |
| --- | --- |
| Number of phases | 3 |
| Breaks per phase | 4 |
| OCB configuration | 3 contacts |
| EHV configuration | [3, 6, 9, 12] contacts |
| Resolution | 100 μs |
| Resistor detection range | 10 Ω to 10 kΩ |
| Voltage isolation to chassis | 1.0 kV |
Specifications - Trip/Close initiation Control

| | |
| --- | --- |
| Maximum input current | ± 25 A |
| Maximum input voltage | ± 300 V |
| Voltage isolation to chassis | 1.0 kV |
Specifications - Motion Channels

| | |
| --- | --- |
| Number of channels | 3 |
| Connector | 15-Pin D |
| Voltage isolation to chassis | 1.0 kV |
Specifications - Analog measurement channels (3A)

| | |
| --- | --- |
| Number of channels | 3 |
| Maximum input voltage | ± 300 V |
| Input impedance | 1 MΩ |
| Resolution | 12 Bit |
| Ranges | ± 300 V, ± 10 V, ± 2 V, ± 0.2 V |
| Voltage Isolation to Chassis | 1.0 kV |
Specifications - Auxiliary Contact Channels (3X)

| | |
| --- | --- |
| Number of Channels | 3 |
| Maximum Input Voltage | ± 300 V |
| Open Circuit Voltage | 29 V ± 10% |
| Closed Circuit Current | 28 mA ± 10% |
| Voltage Isolation to Chassis | 1.0 kV |
Physical specifications
Dimensions
24.0 X 15.5 X 8.5 in
60.9 X 39.4 X 21.6 cm
Weight
22 lbs / 10 kg
Power Supply
100 to 240 V, 50/60 Hz
Temperature
0° to 50° C operating
-25° to 70° C storage
Humidity
Up to 95% relative humidity non-condensing